Call us today at (661) 324-0918 for your commercial lighting and sign needs.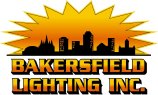 Call us today at (661) 324-0918 and let us help with your lighting needs today.
OUR LOCATION
1519 E. 19th
Bakersfield, CA 93305
SUMMER HOURS
Monday - Friday (6 am - 3:30 pm)
Saturday / Sunday (closed)
REGULAR HOURS
Monday - Friday (7 am - 4:30 pm)
Saturday / Sunday (closed)



Serving Bakersfield since 1972!
Since 1972, Bakersfield Lighting Inc. has been locally owned and family operated. Our founder Raymond Murphy had a vision to break out of the traditional sign-man role and develop his company into a full-service sign and lighting company focusing primarily on repair, maintenance, and installation. Ray developed and implemented a system of indoor and outdoor lighting maintenance services on a contractual basis, the first of its kind in Bakersfield. Designed to reduce labor and material costs to customers by providing consistent monthly visits and correcting outages before they become much larger issues. We continue that tradition today.
After working many years for the business, Ray's son-in-law and daughter (Fred and JR Ross), took ownership in 2000, allowing Ray to retire. Signaling the growth and expansion happening within the company, Bakersfield Lighting Specialists was incorporated in 2011 and the name was changed to Bakersfield Lighting, Inc. Fred and JR strive to keep his vision alive while changing with the times. From those humble beginnings to today's fast-paced and ever-changing technology, Bakersfield Lighting, Inc., finds itself leading the lighting industry in Bakersfield and surrounding areas.
Bakersfield Lighting, Inc. handles all phases of sales, installation, and maintenance of the commercial sign and lighting industry. Whether we are working with your staff, general managers, developers, owners, property managers, national sign companies, or general contractors, we have the flexibility to step into a project and supply the services to complete the job. The diversity of material on our fleet of fully stocked trucks eliminates 98% of second trips, allowing us to fully satisfy the customer, right, the first time.
Today the "Big Red Fleet" consists of 2 bucket trucks, 2 ladder trucks and 2 man lifts. We have the capability to reach up to 100 feet. We have a compliment of experienced technicians, helpers, and staff with over 95 years of combined experience in the lighting and sign industry. We know our business and how to satisfy our customer's needs. Our extensive knowledge and history of each property we service and the rapport we have built with tenants and owners alike, has led to a reputation of integrity. Our unmatched customer service, competitive pricing and on-time delivery set us apart. Our goal is to get your business lighting and sign needs taken care of as quickly and efficiently as possible. Please feel free to look at our photo gallery or give us a call to talk about your sign and lighting needs! We are ready to tackle any project set before us.